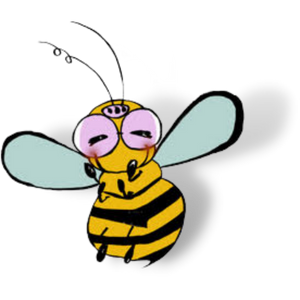 Introduction
Bee-Coming Strong
Bee-Coming Strong tells the story of Jazianzza, a delightful little bee who is curious about everything. Having had poor eyesight from birth, she once inadvertently flew into the side of her hive, leaving her with a corkscrew-shaped antenna. Supported by her new glasses, she delights in all the beauty she discovers as she buzzes her way through the world. She appreciates friendships with Lydah Butter Fly and Tree, living her life with wonder, curiosity, and joy.
Amid her joy, however, she feels some sadness. Her sister bees chide her for getting lost and make fun of her for being different. Looking for solace, she goes to MamaQueenzieBee and asks for help. MamaQB, a very wise Queen indeed, teaches Jazianzza some simple but remarkably effective practices for building confidence in herself and not allowing fear to overcome her.
These skills, which will help any child or adult facing similar challenges in their lives, prove to be wise advice for little Jazi. Despite her new glasses improving her eyesight, her curiosity sometimes distracts her, hindering her from paying close attention to exactly where she is. During the most challenging moment of her life, while absorbed in wonder at the sight of a colorful ladybug, she bursts ahead of her sisters who had come to an unannounced stop when confronted by Queen
Hemizill Hornet, an "enemy" who scares them silly. Remembering all that MamaQB has taught her, Jazi gathers her strength and ends up saving the day. She even offers her wonderful glasses to the Queen whose daughter is also troubled with poor eyesight. Overjoyed by Jazianzza's kindness and the way the glasses help her daughter, Queen Hemizill graciously invites the bees to enjoy the most beautiful flowers ever. Jazi's sisters are immensely grateful to her for saving the day. Joyful celebrating ensues.
Importantly, the hornets that the bees were so afraid of end up becoming friends when Jazi courageously reaches out to them with generosity and kindness. Psychologist Dr. Dale Atkins, who wrote the Foreword for Bee-Coming Strong, co-authored an important book, The Kindness Advantage, in which she emphasizes the importance of instilling kindness and compassion in our children so they can become more connected and happier. Jazi's story offers much for all of us to ponder in a world where our perceived enemies may actually be friends we have yet to know.
Children and adults who have read Bee-Coming Strong describe being captivated by Jazi's story and the colorful illustrations that bring her and her friends to life. Readers also report that they find MamaQueenzieBee's wise advice helps them in their human lives, too.
It is my deepest hope that you will enjoy Jazianzza's story. I love to imagine Jazi buzzing around the planet, seeing children learning to breathe, shaking off their challenges, and bee-coming strong in themselves. May her story bring joy to all who read it as they receive the gift of some simple yet powerful ways to handle the disappointments and fears that arise in all our lives, whatever our age.
Psychologist Dr. Dale V. Atkins reflects on life lessons children can learn from the adventures of Jazianzza Azzaza Buzzabee in Bee-Coming Strong.
Forward
By Psychologist Dr. Dale V. Atkins
From the moment I met Jazianzza, an adorable honeybee who is different from all of the others in her hive, I was entranced and delighted by her inquisitiveness and open spirit. As a psychologist, I help parents and teachers guide children through life challenges and am always grateful to come across a book children will enjoy that supports that process.
Jazi's story, which is full of fun and wisdom from which children and adults can learn much, is accompanied by magical illustrations that encourage a sense of kinship with bees and all the natural world. Embedded in this charmingly engaging story are meaningful life lessons about character, courage, confidence, curiosity, and connection. There is a deep understanding of the importance of nurturing self-compassion and compassion for others as we build self- confidence.
Nature is Jazi's teacher. Her sage guides include MamaQueenzieBee who helps Jazi learn to value herself and be strong even when her sisters tease her because she is small, has a corkscrew antenna and needs to wear glasses. She teaches her how to calm herself when she feels overwhelmed. Learning that Jazi sometimes feels afraid, her friend Tree confides that when he was young and small, he often felt afraid. Jazi can hardly believe it. Tree tells her that he eventually realized the frightening winds and storms were making him stronger. As a result, he can now provide home and shelter to others. What is important, he says, is to never give up. Another wise friend, Lydah Butter Fly, explains that it is important to have a healthy respect for potential danger by being aware and alert. The most surprising wisdom teacher is Queen Hemizill Hornet, Jazi's biggest, most frightening obstacle. When faced with what appears to be "the end", Jazianzza remembers what MamaQB taught her.
She relies on her inner strength and wisdom to keep her fear from taking over, which allows her natural kindness to express. Ultimately, her courage and kindness create a bridge between the bees and the hornets that saves her and her sisters. Jazi becomes a respected, "accidental" leader by putting into practice what she has learned and being her best self. What an amazing opportunity this offers to talk to our children about how we can calm ourselves in the face of fear and find ways to act with courage and kindness when animosity seems to be all that is available. MamaQueenzieBee sees Jazianzza for who she is. She shows Jazi that she has the skill she needs to "shake off" what others say when they are mean so that she can be her true self and feel good about who she is. All children benefit from a respected elder paying close attention to them and encouraging their strengths when they are focused on how they are different from or weaker than others. MamaQueenzieBee gives Jazianzza tools to calm her fear and relax from within. I realize MamaQB doesn't know this, but researchers have studied the techniques she teaches and found them effective with children and adults. When we notice our children becoming frightened or anxious, we can encourage them to utilize the practices Jazi learns. As with Jazianzza, obstacles can become opportunities for growth. Initially Jazianzza feels different and therefore less worthy. She wants to be like her sisters and does not appreciate her own value. Ultimately, she begins to understand the invaluable lesson that it is only by being her true self that she can really connect with others and all of nature. Jazianzza's story can encourage children to value themselves, connect with others, enjoy nature, and engage life, obstacles and all, with courage and kindness. Anandamayi Baker has given us a lovely gift by sharing Jazi's story for the benefit of humankind.
Dale V. Atkins, Ph.D., Psychologist, Author, Media Commentator
Co-author of The Kindness Advantage: Cultivating Compassionate and
Connected Children, selected as Greater Good Magazine's top five Best
Parenting Book of 2018 and a Family Therapists Nationwide Top 20
Parenting Books of 2021.