Featured Book
Bee-Coming Strong
What we can learn from her?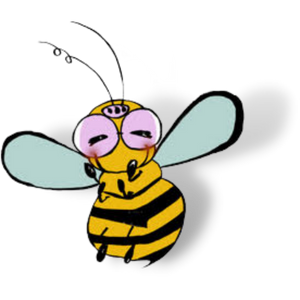 Featuring Jazianzza
New Release!
Anandamayi Baker
Praise for the book
The book Bee-Coming Strong is specially written for kids to help them understand nature as well as themselves. The story of this book moves around Jazianzza who is an innocent little bee learning life and facing challenges as they come to her. Here's what some of the readers of our book have to say…
Jazianzza shows us that when we know our bee-ing, we can have delightful Bee-Comings. I like her!

Ramakrishna Ananda, master yogi and founder of the Yoga Center of California
My 7 year old grandaughter and I had so much fun reading this sweet story together. Lilah especially enjoyed practicing the breathing techniques after each chapter. I saw her playing with her 4 year old cousin and she was teaching them to her! When she sees me getting a little anxious, she very calmly say's to me, "Grandma, just close your eyes and breath."

Becky C, Huntington Beach, CA
Young and old, we can all relate to Anandamayi Baker's tale of a young bee finding her way in the world. With the help of her teachers, MamaQB and Tree, Jazianzza learns the power of mindfulness and focused breathing in overcoming her fears and anxieties. This book will help readers of all ages discover their own Jazianzza and learn along with her!

Dr. Praveen Akuthota, UCSD Pulmonary Physician
Ultimately Jazianzza begins to understand the invaluable lesson that it is only by being her true self that she can really connect with others and all of nature. Jazianzza's story can encourage children to value themselves, connect with others, enjoy nature, and engage life, obstacles and all, with courage and kindness. Anandamayi Baker, Jazianzza's translator, has given us a lovely gift by sharing Jazianzza's story for the benefit of humankind.

Dale V. Atkins, Ph.D., Psychologist, Author, Media Commentator. Co-author of The Kindness Advantage: Cultivating Compassionate and Connected Children
Bee-Coming Strong is a celebration of how the littlest creatures can recover and learn to smell the roses once more. We know that bodies hold trauma from the sting of bullying. Since 1959, our organization, Childhelp, has rescued close to 12 million children and we know that prevention education is essential to eradicating abuse. Read to your children. Teach them body safety. Help them learn abuse is never their fault. This lovely little book of kindness principles, grounding exercises, and self-acceptance messaging is a great teaching tool. Something as small as a bee could save a life.

Sara O'Meara and Yvonne Fedderson, Childhelp Founders
This is a charming story about Jazianzza, a young honeybee, and her "coming of age" adventures. She overcomes challenges similar to those humans face and is lucky enough to have sympathetic teachers as advisors. They advise her to have self-affirming thoughts and actions and they teach her healing breathing and meditation. The author Anandamayi Baker has researched honeybee natural history and the story gains interest being told from an insect point of view, encountering butterflies and hornets as well as other honeybees. Humans, although not part of the story, are illustrated as acting out breathing and meditation activities because, after all, the advice to Jazianzza is quite sound for humans too. The illustrations by Akiko Martinache are very charming and colorful and help bring the characters to life.

John Smiley, Retired Entomologist, White Mountain Research Station, Inyo Co., California
This beautiful book is a touching story that resonates on many levels – how we can all overcome prejudice simply by learning more about those around us. The bees learn more about someone who looks different from them and discover that they are just the same as one another. They realize that even the feared hornets are 'people' too. If only humanity could learn from reading this book.

Martin Dohrn, wildlife filmmaker and producer, founder and director of the award-winning production company Ammonite Films, and co-creator of the recent PBS documentary "My Garden of a Thousand Bees."
The story of
Anandamayi Baker
My desire is to plant seeds of curiosity about life both within and around us. I want to share tools that have enabled me to find an inner peace and fulfillment beyond my dreams. What I write about comes from my own experiences. I hope you find some gems that will serve you and your children.
Together, may we thrive!
Anandamayi Baker